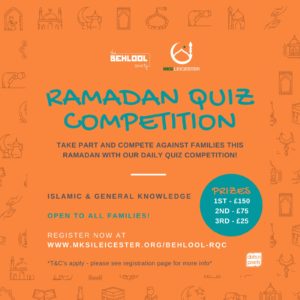 This Ramadhan we're going to be running a daily quiz competition based on Islamic and general knowledge questions.
Your family has the chance to win the competition!
1st Prize – £150
2nd Prize – £75
3rd Prize – £25
Be sure to take part and get involved!
The quiz will run daily for the full month and you'll need to stay at the top of the leader board for a chance to win.
REGISTRATION REQUIRED BY SATURDAY 25TH APRIL – 3.00PM
For more information please speak to a member of the Behlool Society team or email [email protected]
Behlool Society