MKSI MESSAGE SERVICE
NEWS OF DEATH & BURIAL UPDATE
7th May 2021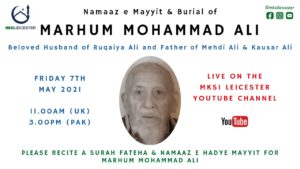 إِنَّا للهِ وَإِنَّـا إِلَيْهِ رَاجِعونَ
Inna lillahi wa inna ilayhi raajioon
We have received the sad news that Marhum Mohammad Ali has been called to the mercy of Allah [swt] on Thursday 6th May 2021 in Leicester, UK.
Marhum was the beloved husband of Ruqaiya Ali and father of Mehdi Ali & Kausar Ali.
Burial Details
The Burial of Marhum Mohammad Ali will take place Today, Friday 7th May 2021 at 11.00am (UK Time).
Due to the pandemic only close family members will be allowed to attend the burial.
However you can Watch the Burial Live on:
https://youtu.be/8bX1W6gc3AU
Our condolences to the family.
We pray to Allah to give patience to the family to bear this great loss.
Please remember Marhum in your Duas and with Namaaz e Hadye Mayyit.
Al Fateha.
MKSI Leicester